The Hard Drill, Scene #01
Updated : 2012-12-18

|

Length : 24:48 min

|

Size : 238 MB

|

Images : 15

|

Views : 1915
Quite bigger than Rick, Jockey blows smoke in his face to show him who's boss. The two men wrestle and fondle each other until Rick can't resist any more. He pulls down Jockey's pants and gives his hard manhood a good mouthfuck. After a little mutual sucking, Jockey plays with Rick's tight asshole, sticking his fingers and tongue in him.

Hard and lubed up, Jockey firmly lowers Rick to his knees and inserts his pillaging ramrod. Rick moans as he loves taking a hard pounding from such an aggressive top. He strokes his own cock while Jockey keeps slamming away at his little man-hole.

Not getting enough of Jockey's cock in him, Rick sits on it, letting gravity drive it it all the way in! It feels so good to have his ass filled that he makes a huge mess all over Jockey while still riding him! Having been patient, Jockey pulls out, sticks his tool between Rick's lips and gives him a thick, white, warm explosion in his mouth.

Enjoy!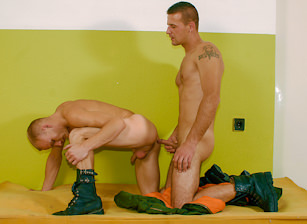 related scenes
No records were found that match the search criteria.